Jim Ostrycharczyk was born in Berlin, 1973, now living in Hamburg.

Diploma in German Sign Language Interpreting (Hamburg).
Diploma in Visual Communication (Arts, Hamburg).

Does Design, Performance, Video, Ceramics, Jewellery, Photography and Fanzines about different forms of cultural tradition and cultural transfer.

Interested in representations of language, signs, gestures and other forms of information, repetition and remembrance.




The band "Le Roi et moi" is playing queer electropop. We are Torsten Junge, Schneider, Jim Osthaarchic & Le Danse Russe, sometimes we have guests and background dancer.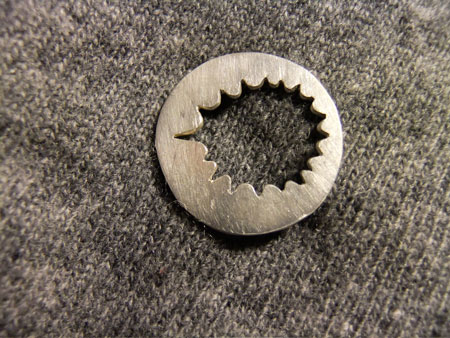 "Genpatsu? Okotowari"

As pendant or brooch

Silver (925), 2.8 cm diameter
Pendant fixed with linen yarn,
brooch fixed with safety pin

limited first edition, 11 pieces

No hedgehog, no speech bubble, the plain "Nuclear power? No thanks"-button.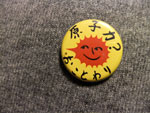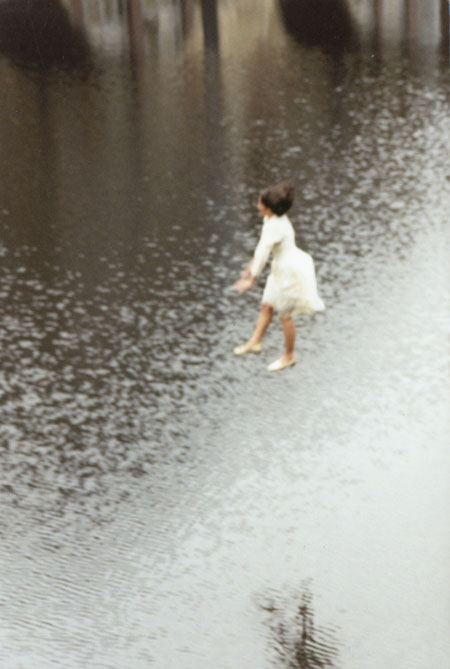 "My bride to be is the sea" Performance 2002

This is a song line of a hamburgian sailor song.
Between the city of water and gay marriage it was probably the best idea to stage my own wedding with the sea.
Between dignity in daily life and being touched.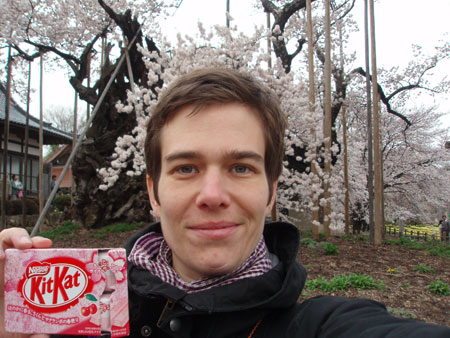 Ichiban furui sakura no ki - Cherry Blossom KitKat
(Oldest cherry tree- Cherry Blossom KitKat)

The Cherry Blossom as a symbol for transiency and also for remembrance and meeting again.The annual short season of cherry blossoming.
In a japanese song these thoughts are sung in a very touching way.
Like many japanese people I visit the oldest cherry tree in Yamanashi.
"Sakura Sakura" is playing and I eat Kitkat with Cherryblossomflavour which carries
all the concepts about cherry blossoms in another way.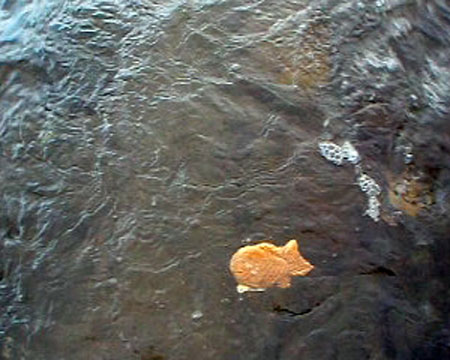 Oyoge Taiyaki-kun - Swim cakefish swim

All beginnings need a liberation.
I start my encounter with Japan with a reinterpretation of a popular song.
A baked "cakefish" is liberating himself, comes to a river and is in the Japanese version hooked and eaten by a fisherman.
Symbolically I take the cakefish and liberate him.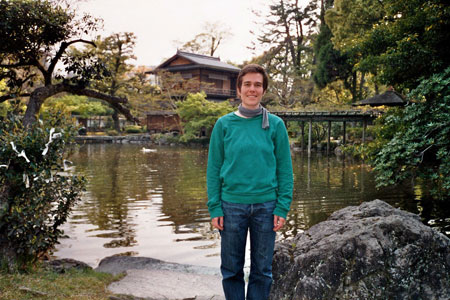 26.4.2007: taken by yuka, kyoto imperial palace garden

Green Thursdays, Japan, 2007

After listening to a lecture about queer manga in japan I decided to wear green every thursday in 2007.The lecturer said that manga characters wearing green clothes or having green hair are gay- especially on thursdays. She said that this colour concept was taken from the european colour symbolism from the 20s of the 20th century.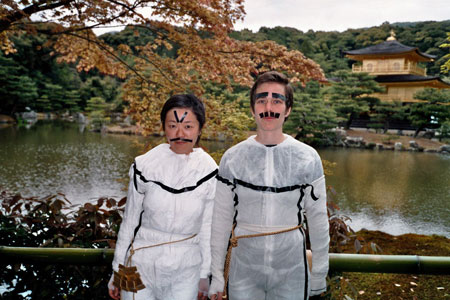 Freddie and Freddy Mercury at the Kinkakuji, Kyoto, 2007